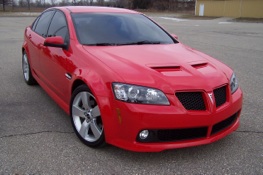 It's time to hand out some info and updates on Alternative Auto's Bright Red G8. In a nut shell the best we achieved with our very mildly equipped G8 for the 2009 season was 12.95's at 107ish mph. This was "without" the NOS system that was also added during the 2009 season. Only add-on and tweaks are; a VaraRam cold-air kit, SLP under drive crank pulley, our own in-house G8 custom tune, and with a very unique custom exhaust system consisting of a "double-X" pipe with four resonators, and two FlowMaster delta-50 mufflers, also known as 3-chamber mufflers. When the 125hp NOS kit was enabled – our 4100lbs G8 (with driver) and 6-speed auto went 11.90's at over 116mph.
Now a bit of reasoning for our unique G8 exhaust system; Because the G8s 8 cylinder engine, and its engine management system has a feature known as "Displacement On Demand" (DOD), which essentially and in short, switches from V-8 mode to 4cyl mode depending on driver demand. This feature is for better fuel economy. As a result though, cars that are equipped with a DOD feature have to also be equipped with very quite exhaust systems as well. The reason for this is if they have loud or even moderately loud exhaust systems – when they are operating in DOD mode, it becomes very apparent that they are in DOD mode with louder exhaust, and basically they sound like a 4cylinder out the back. And as most true performance car enthusiast would agree "4 cylinders are to be seen and not heard". And also because of my own personal taste and opining, we don't always just purchase readily available exhaust kits that can typically end up sounding to loud and frappy under load, and/or high RPM. Our own designed and unique Double-X system with FlowMasters for the G8 has a clean deep tone with no frap what so ever… Either way we do have the ability to turn off DOD with our custom tuning for LSx engines. And we do disable it on most of the custom tunes we do for GM cars. We've found that depending on driving style that DOD mode doesn't offer much better economy any way, and it's hardly missed when disabled on an enthusiast car.
Another feature that worked out very nicely on our G8 is that we had the factory rear rims widened and made exactly 10" wide. Stock is 19 X 8". This allowed a BFG 295/35/19 tire to neatly fill out the rear wheel wells. It looks great from all angles. The new larger back tire is only about 3/8" taller then the fronts, and about 2" wider than the front tires. This made for much better traction. Also cosmetically we've completely de-chromed the G8 on the outside, and also removed a few chrome badges too.
The 125hp NOS kit on this G8 is a little more elaborate than your typical "slap it on and go" type kit and install. We thought it through a bit more, and the goal was an extremely reliable NOS system that was not to aggressive, as some usually do especially in the LSx department, and we wanted to be able to just "punch it" and have the NOS system come-on gradually so that at the track and mostly on the street the rear tires did just go up in smoke once the NOS kicked in while in 1st gear. But we did want some of the benefit of the NOS as early as possible and not wait unit 2nd gear like most people often do to trigger the NOS. So our NOS kit is equipped with a wide open throttle enable switch, an RPM enable switch, and also a progressive controller. Basically this system won't come on real hard all at once from a dead dig. It'll come on only at WOT at about 2800rpm. And once it does come on at about 2800rpm, the progressive controller pulses the NOS solenoids for about the first two seconds to only give about ½ of its added horsepower, then ramps the rest of the 125hp shot. This allowed our G8 to have very usable extra power from a near standing start and made for a lot of fun on the street and the ¼ mile. Our G8's NOS kit safely knocked one second off the ¼ mile ET and added nearly 10mph in the ¼. Equaling 11.90's in the ¼ mile.
Also our G8's NOS kit is equipped with an MSD "Timing Twister" device. This unit is an ignition retard box that ties into the crank trigger system and basically retards the ignition timing only when the NOS system is being triggered. This feature allows for us to continue to use our everyday more aggressive G8 tune full time, and then only when the NOS is being used a few degrees of timing is retarded for greater engine safety. So the day to day tune isn't compromised when not using the NOS.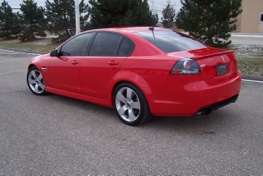 In an ongoing effort to learn and tune some of the current and upcoming LSx based GM engines and transmissions. Attempting to expand and adapt in this current economy, we've decided that the GM LSx engines, Automatic transmissions, and tuning for them might be a viable direction for us. We are using HP-tuners Software and Hardware to tune the GM stuff. We've actually been tuning and doing some performance mods and installs to the GMs since shortly after moving into our new facility located in Chesterfield, MI during the 2007 season.
I feel that the new Pontiac G8 is an excellent performance platform that starts out as a great foundation which will, and already has proven to respond nicely to minor and major mods from what we've seen prior to acquiring ours. Put simply – "it's just a cool sedan that's rear drive with a small block V-8!"
Without getting overly technical, I'll spell out the basics of the stock power train. Our shop-owned G8 is equipped with a L76 pushrod engine that is rated at 362 HP. It's attached to a modern 6-speed electronically controlled automatic transmission. It has an independent rear suspension, and the stock rear axle ratio is 2.92. Seems kind of like a weak axle ratio, but it must be noted that the first gear ratio in the supplied trans is a steep 4.03. Where as most average automatics typically have a first gear ratio of about 2.5 to 3.2:1. Even though first gear is rather steep, this doesn't rule out the potential need for a bigger gear for the guys looking to maximize naturally aspirated performance because of the weight of the car, and possibly different tire diameters–which by the way it does weigh in at just a little under 4000lbs.
We feel that the G8 will make an excellent platform in which to make average improvements with, like ECM tuning, air boxes, exhaust and gears, etc.
Alternative Auto is going to post here as we progress with the car–which will of course be geared mostly toward straight line performance, for both street and strip. In early April 2009, we already made an effort to base line the car at Ubly Dragway in MI. With good 50 degree temps, and what appeared to be very little to no tire spin… our G8 ran a best of 13.54 @ 102 totally stock. 60-foots were 2.00
From here we're going to develop a good tune to take as much advantage as we can with locally available 93 octane fuels and just like in all of our other proven Ford and GM automatic tunes — We're going to put great emphasis on How the trans shifts, Where it shifts, Lock-up and Torque reductions during the shifts, which appear to be putting a good hurting on the G8's ¼ mile performances.
One week later we returned to Ubly Dragway to test out just what we could accomplish with only our own in house developed G8 Custom tune that will take better advantage of 93 octane unleaded fuels… and primarily as mentioned above address what I feel is a serious performance loss with how the trans shifts and applies TQ reduction at WOT.
When we returned to Ubly a week later we were fortunate enough to have the exact same outside temperature and same conditions over all as the previous weekend. So we felt that our ¼ mile comparison both with and with out our tune would be a fair and conclusive test.
Right off the street after our nearly two hour drive to the track, the G8 ran 13.23 at just over 104mph. After just a short cool down and pushing it a little on our launches… we eventually got a 13.08 and a 13.07 at just under 105mph.
This is with only our tune installed. Shortly we'll be trying and testing some sort of an air-box and then from there I'm sure we'll move onto some sort of exhaust upgrades.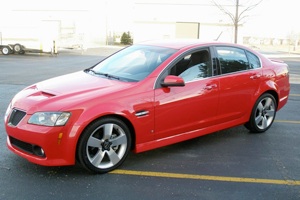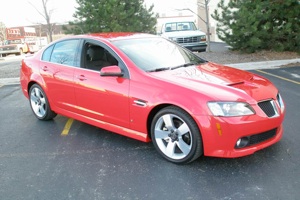 Here are some before and after pictures that we have taken to show you the cosmetic upgrades that we have done to the car. We had the windows tinted to give the car a tougher look along with painting the grill and blacking out all the window trims along the outside of the car.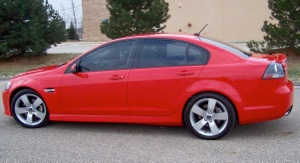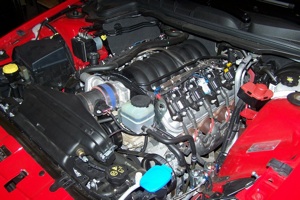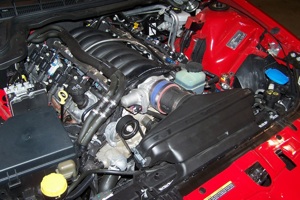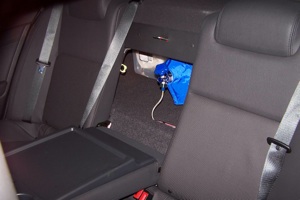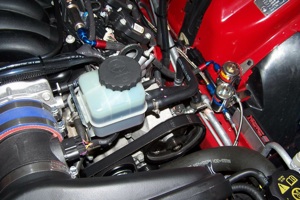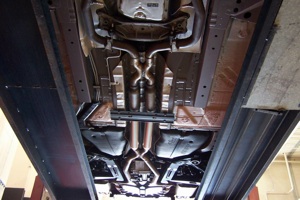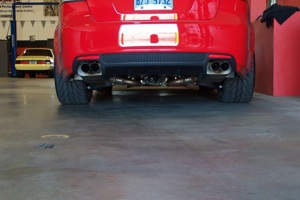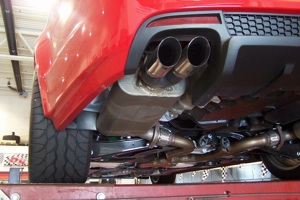 Scroll Down…Oldest to Newest…