2011 5.0L Whipple Supercharger
2011+ 5.0L Whipple Supercharger Package
If you're looking for the ultimate boosted power adder for your 2011+ 5.0L equipped Mustang GT or Boss 302, then the Whipple is your last stop!
We will be selling and installing these kits as "tuner" kits. Meaning that the injectors and tuning will be chosen and supplied by us to work with the individual end user's needs. But, for the most part they get 9-10psi of boost and 60lbs injectors. Because it's a large 2.9L twin screw type blower….there is a lot of future potential left in this unit.
The heart of the Whipple blower kit is the amazing and huge 2.9L twin screw and large GT-500 twin bore throttle body.
Just like all Whipple kits – their 5.0L Mustang kit has OEM like fit & finish and is one of the most efficient twin screw type superchargers in the industry. 
Our base 2.9L kit for the Mustang GT's and Boss cars is making between 585-RWHP and 605-RWHP on manual trans cars, that have headers, hi-flo cats, and mufflers. And because it's a twin screw, there is absolutely no lag, just big TQ and power right off idle to 7000+ RPMs.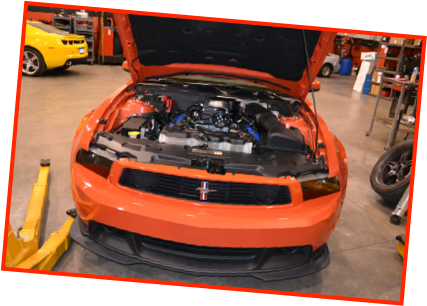 These kits start out at $7300 and are about $1700 for the complete install, dyno'd, and custom tuned. Please call the shop for more information! ALL PRICING SUBJECT TO CHANGE!