Alternative Auto took the time to recently install and test the new FRP; BOSS 302 intake on our own 2011 5.0L GT. We tried to do the most down to earth and conclusive test possible by re-baseline testing the car on our own DynoJet, and then simply install the new intake while the car was still on the dyno in a one day session. And tune accordingly if needed after the install. (which is unlikely being that these cars are now equipped with wide-band O2's stock).
Our 5.0L GT has: our own in house 93 octane tune, Long tube headers, cat'd X-pipe, C&L air box kit, 4.10 rear gears, and a slightly looser stock TQ convertor. All of this got us 12.0's@113mph in the ¼ mile at the end of the 2010 drag race season. This was achieved with a full weight car (just under 3900lbs with driver) and with 20in rims and tires on all four corners (a true street car in every sense). Throughout the 2010 season our automatic equipped 5.0L produced just over 390rwhp with all that is listed above done to the car. Comparable manual trans cars will usually put down about 415 to 420rwhp on our dyno.
When testing our own automatic car, and many other automatic trans cars on our chassis dyno – we always do our best to try to program the engine and trans management computer to lock the converter in whatever gear is as close to a 1 to 1 ratio (4th in the 5.0 car) and also set it up so that when going WOT on the dyno so that the automatic will not downshift into a lower gear. This produces the most accurate pulls from typically 1500rpm all the way to whatever redline happens to be on the particular cars on our dyno.
For whatever reasons our 5.0L car re-baselined a bit lower this summer during the test than it did in the summer of 2010. Either way we did make several base runs just prior to installing the new BOSS intake manifold.
After the new manifold was installed after only about two hours or so. We immediately started the car and began sneaking up on a full pull, after we insured on a couple of small pulls that the WOT air fuel ratio was going to stay where it was originally…and it did.
Basically we found that the new manifold suffered as one would expect in the midrange as much as 25 to 30ft lbs of torque depending on where you look at the curves from roughly 2500rpm to even as high as 5000rpms. This loss in mid range rpm, and potentially lower rpm's had we tried it — is un-recoverable no matter what anyone says with tuning or anything at this point on this motor. The new manifold simply has shorter runner then the stock unit, and simply physics will tell you it can't be fixed. Our Tune has already pushed the ignition timing as far as we think we can, and we chose not to go any further with it on our locally available 93 octane.
On the plus side the new BOSS intake gained as much as 25rwhp horsepower over 7000rpms. And possibly more as you get closer to 7500+ rpms. How much of this is usable for the average GT equipped with a 5.0 is to early to tell. Our car has a slightly looser then stock TQ convertor, combined with the big 1st gear of the new 6-speed auto, and the 4.10's in the rear. After adjusting the WOT shift points a bit and extensively road testing, our car does feel better seat of the pants so far to some degree at very high RPMs as one would expect. And whatever losses there may be in the mid range doesn't seem noticeable at all with our automatic setup using a slightly looser stock TQ convertor. Manual trans guys may feel this quite a bit more while short shifting and lugging around town.
As far as 1/4 mile results go – Not very impressive at all for the most part. Our 5.0L car only gained a small amount of MPH, and averaged about 113mph, to just over 114mph. But only managed a best ET of 12.09, never really beating the previous best of 12.08. On a good note the 12.08 was achieved in much colder 50 to 55 degree temps. Whereas throughout the 2011 season we never got a good break with the temps and always seemed to get stuck with temps well into and above the 80's with more humidity. But the MPH is up over all, and I'm confident with much cooler temps that this manifold could prove to be about a 1.5 tenth increase, which we would hope to see a 11.9_ something out of this car.
But in conclusion; I really don't feel this manifold is worth much considering the Losses in low to mid range TQ you will suffer in the most usable range of all when street driving it. Images found in WaterBox.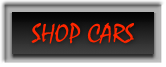 Our 2011 5.0L GT no longer runs on atmospheric pressure alone. It is now seeing 12psi of boost supplied through an intercooled Roush TVS 2300 supercharger system.
Because of the Coyote motors 11 to 1 compression ratio, the most common, and safest boost level for these is typically 7 to 8psi when burning unleaded premium fuels. But of course we've decided to take our own 2011 6-speed automatic car to a higher level to see what we can get on 93 octane, and basically a 5.0L GT that is just like what most people drive every day. No slicks and skinnies here, but a true 3980-lbs 2011 GT rolling on 20" wheels and drag radials in the rear.
We left off with 12.0s at 115+ ¼ mile times while it was still naturally aspirated. But in 2012 when the decision was made to boost the car — We dropped if from 4.10 rear gears to 3.55's because of how much harder the car would mid range with the TVS blower system. As of late 2012 we left off with 585 RWHP and 540 TQ. Other mods consist of 1-3/4" long tube headers with cat's, resonators, and FlowMaster 3-chamber mufflers. We stayed for now with the default supplied 47lbs injectors, and a Voltage enhancing Boost-a-pump was installed after we raised the boost from 8psi to 12psi.
Like all of Alternative Auto's 2005+ shop owned Mustangs. Our 2011 also has zero suspension changes, and has still achieved some great whole shots and 60foot numbers on just a 20in drag radial tire.
We've achieved what we feel is some seriously great results with a car that "once again" can simply be left in "drive" after the burnout, and lay down some great ET's effortlessly in a full weight modern 2011 5.0L Mustang.
Check out the WaterBox Article for a Video of the Milan Pass and Photos! Click Here!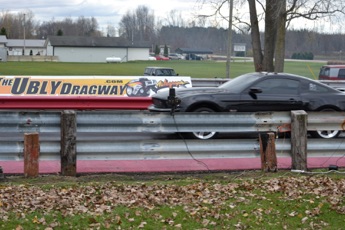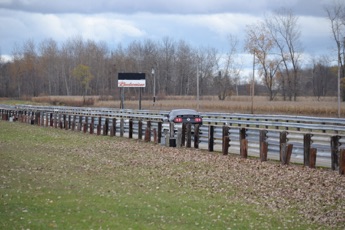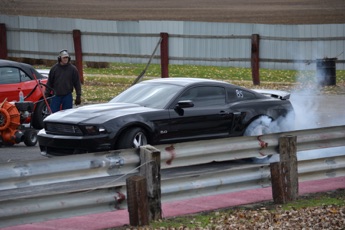 Our shop car's personal best ET was achieved during Mustang Day at Ubly Dragway.
Blessed with some dry cool air and great traction resulted in our quickest time yet with the current blower setup.
10.32 at 132 mph with a 1.49 60 foot!

Check out our waterbox for more updates on our 2011 5.0L Mustang GT CS!!! Its currently making 709 RWHP on 14 psi of boost, and a forged bottom end.
New Update – 2014 NMRA Race in Bradenton Florida.

For the mid 2014 season, our 2011 5.0L car has improved its ET's on boost alone, and also with the NOS on top of boost.
After a couple more NMRA races at both Maryland, and Norwalk OH, and also a couple of test sessions locally. We've managed to get the car into the 9.90's at over 138mph, and with the NOS we've whittled it down to 9.50's at over 147mph.
This is still a pretty much full weight car (3940lbs with driver).  We've been playing around with no front sway bar, which is about a 15lbs weight reduction up front, and we've neatly relocated the battery into the spare tire well in the back of the car.
Our sixty Foot numbers are now in the mid to low 1.4's.
One of the most impressive things about this combo is the 6-speed auto Trans in the car. Known as the 6R80….  It now has over 250+ ¼ mile passes on it — With most of those passes now being with a boosted motor with RWHP numbers being far north of 700. And with the NOS well over 850rwhp.
The Trans has never been serviced or beefed up or anything. Same with the Torque convertor too. It's all stock. Just proper Trans shift tuning and she's been living.
The rear end is still mostly stock with a 3.55 gear and an upgraded Posi unit with the stock 31 spline axles.

For the remainder of the 2014 season, the Alternative Auto (fully streetable) 2011 5.0L GT ended up with a best of ET 9.88 @ 142mph on boost only, and some 9.50's at nearly 150mph when a shot of NOS is thrown in the mix. We forged the motor in late 2013, and for the 2014 season we made nearly 85 full ¼ miles passed with it, and had absolutely no trouble with the car at all. Most of the 80 passed were 10.15 or quicker ET's in the ¼ mile.