32 Valve Advanced NA Package
'96 – 04  32-Valve Mustang Advanced NA Package
This is what most 32v customers consider to be the next and final steps as far as bolt-ons, and additions to the 4.6L 4-valve equipped Mustangs.
These options lean even more toward induction improvements, more improvements to exhaust, and parasitic losses too, with the addition of under drive pulleys.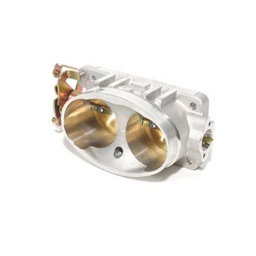 For long tube headers we prefer the BBK pieces on the '96 through '04 32v Mustang applications. These offer great fit and finish and can be worth up to 15 to 25+ RWHP for most depending on other mods and power adders. We also use the matching BBK X-pipes with cat's to accompany the long tubes. We also strongly recommend a larger Cat-Back exhaust system to go with the BBK headers and X-pipe to maximize gains.
BBK makes a terrific looking, and fitting twin 65mm Throttle body that is a direct bolt-on for all 32v Mustangs from 1996 to 2004. They are worth anywhere from 7 to 12 hp.
To reduce parasitic HP losses we like to use the Steeda under-drive pulley kit. These are worth about 5-7 RWHP too.