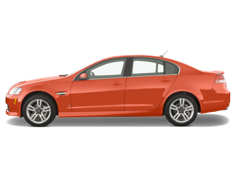 g8 performance package – CAI & Tune
Alternative Auto is now offering one of the most clever and well designed Ram Air kits for the Pontiac G8. This unit comes from a company called VaraRam. Their air box actually rearranges things quite a bit under the hood. It actually tilts the stock radiator back a bit to allow the ram air kit to cleanly, and neatly fit over the radiator — allowing a very short, straight and clean shot leading from the grill area into the MAF and throttle body.
Our in house DynoJet testing with the VaraRam installed on a G8 has shown an unbelievable increase of over 25+ rear wheel horsepower from just this unit. Unfortunately though, the VaraRam for the G8 causes about a 10-15% lean condition under light load, idle and part throttle conditions which will lead to a "service engine" light. So just like with our 2005+ Mustang air boxes… our G8 VaraRam will only be sold and installed onto G8's with our own in house developed custom G8 tune, which will not only correct for the ram air, but enhance countless other engine and automatic trans related parameters.
On our in house G8 with mild to cool outside temperatures, and good traction, we've now run 12.95's at 107mph in the ¼ mile, Using our own G8 tune, VaraRam, and SLP under-drive crank pulley.
We will be selling and installing the VaraRam unit along with our G8 tune as a combo for $795.00.