2010 And Up Camaro Gear Change
2010+ Chevy Camaro Gear Change
Ring & Pinion Specifications:
– Designed to meet original equipment specifications
– Manufactured by American Axle the original equipment gear supplier for Camaro SS
– Gear material is a modified SAE 4320 steel alloy
– 11 tooth pinion gear, 43 tooth ring gear design
– Gear sets fit both manual and automatic transmission Camaro SS differentials
– Gears sets are 100% single flank rolled to assure acceptable NVH characteristics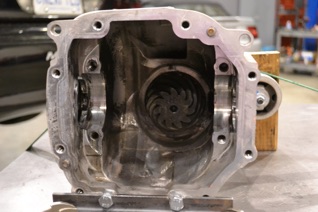 Alternative Auto is now offering a complete 3.70 or 3.91 ring & pinion ratio change for the 2010+ 5th Gen Camaro's.

As most would understand, gear changes in performance cars are a very good "bang for the buck" option. They increase torque multiplication, and offer better mechanical advantage in all forward gears.

We've decided to work with the highest quality gear in the industry available for these cars, manufactured by American Axle (who is also the supplier of the OEM gears).

With our professional installation processes, and a proper installation kit — these gears will offer reliable and quite performance. These gears are rather pricey, but very worth the extra cost in comparison to other "cheapies" that could lead to gear whine and poor durability.

Please call for pricing!