History Of Alternative Auto Performance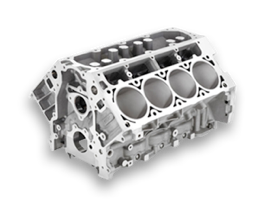 Lidio started Alternative Auto Performance in 1990 while still working for a Ford dealership. He would spend his evenings working out of a modest 1200 sq. ft. shop for a handful of customers before the 5.0L & Modern EFI Mustang craze began. Honest workmanship, substantial performance increases, a personable atmosphere, and fair pricing are responsible for what has now grown into a 7500 sq. ft. facility, 8am – 6pm, 6 day a week operation that includes 3 full time performance technicians plus sales and tech support staff. And as of 2003 an in-ground DynoJet chassis dyno was also added. Now located in Chesterfield twp, Michigan, Alternative Auto has hundreds of local customers, and some travel from as far away as Wisconsin, New York, Ohio, Indiana, Illinois, Oregon and Canada.
In 1991 Alternative Auto became one of the very first Vortech Supercharger dealers in the country and remain the oldest and most experienced dealer and service facility in Michigan. Working closely with Vortech for many years, Alternative Auto's own R&D has helped Vortech engineers further refine their supercharger systems. Thousands of hours of testing and tuning boost assisted vehicles at the track and on the dyno has made Alternative Auto one of the most experienced Vortech Distributors and Technical Service Facilities in the country. Whether you drive a Ford, GM or Chrysler vehicle, Alternative Auto knows what it takes to make it run its best with a supercharger.
Alternative Auto has tried almost every performance part on the market and found which ones deliver performance and which ones offer empty promises. On the flip side, quality parts don't necessarily equal quality performance. It's the correct combination of parts that will make the most power, and Alternative Auto's experience and knowledge ensures that the combinations they recommend are the most powerful and reliable anywhere.
As many customers have found, Alternative Auto refuses to carry or install certain parts because of their low quality or failure to perform. Everyday a new "Gimmick" part hits the market and promises an easy 30 hp or a 1/2 second reduction in ET, many of these parts offer nothing more than exaggerated claims and false promises. The parts that Alternative Auto sells and installs are track proven and are extensively used and tested on their own cars before it can be installed on yours.
With an increasing number of mail order and retail businesses trying to make a quick buck selling any part they can make a profit on (regardless if it works or not), it's important to know that someone is more interested in reliable, quality performance than profit. As an Alternative Auto customer you benefit from the most experienced technical backing in the industry.
Virtually every weekend you'll find Alternative Auto at the drag strip, testing new combinations, trying new ideas and lending support to their customers. It's this dedication to the sport of auto racing and to their customers that makes Alternative Auto such a unique facility.