21 Year End Update Lidios 2005 Vorteched Mustang GT
Year End Update –  Lidio's 2005 Vorteched Mustang GT
Thursday, December 21, 2006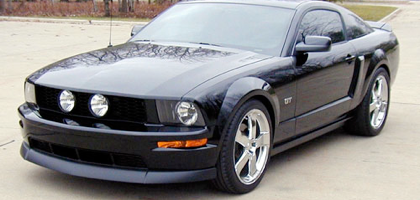 I haven't had a whole lot to talk about with the '05 GT this past summer other than running a personal best using only 93 Octane and the Meth injection. It happened at the World Ford Challenge with mid summer heat where it ran a best of 11.14 @ 122 MPH.  As the summer went by and I continued to run the car at various events it would continue to run very low 11's without ever overcoming my best ET 11.14 at the WFC event. It seemed as the summer continued and the weather got hotter, it simply wasn't going to beat its best.
In an effort to achieve a goal I had set for the car to dip into the 10's on 20" non-drag radial tires before the 2006 season ended – In mid September as the weather cooled we decided to up the boost from 12.5 psi up to 17 psi and temporarily switched the car to leaded 110 octane Turbo-Blue racing fuel.
This made the RWHP climb to 530 and on October 14th at Ubly dragway the black '05 GT on 20" tires ran a best of 10.90 @ 127.04 MPH with a 1.61, 60 foot!
The car is actually heavier than stock with driver because of the large 20" wheel and tire combo. At the 2006 NMRA Bowling Green, Kentucky race the car weighed 3750lbs. This is with all the stock control arms in the rear and all the stock sway bars in tact.
At this time the 5R55S 5-speed automatic trans has far surpassed my original prediction that it wouldn't live beyond a 500+ RWHP application. Well it has, and it's doing quite well. In fact I think that with a slightly looser torque converter to help absorb some shock, and the shifts tuned and happening just right to avoid flares and harsh tie-ups / binds, I think the little 5R55S will potentially take upward of 600+ HP.
The car is driving quite a bit on the street and now has about 13,000 miles on it. With lots of flogging, both on the street and of course the 1/4 mile. It's continuing to shift firm and positively, with no signs of a pending failure.
or the 2006 season I don't have any major plans to achieve much more in terms of 1/4 Mile performance other than potentially try a bigger 4.10 gear, and go back to a little bit less boost and see if with bigger gears and unleaded fuel & Meth, if I can get it to stay in the high 10's which would be quite a statement on 93 with Alky and the 20" tires.
Hopefully with the overwhelming popularity of putting 20" wheels on the 2005 and newer Mustangs, and several other makes like the Dodge Charger and the Chrysler 300C etc, I would imagine that some 20" drag-radials can't be too far off. I think this would be a serious upgrade for my 05 GT in the 1/4 mile and could lead to the addition of more HP and traction and push the car into the mid tens or better.
Cosmetically the car for the '06 season did get a front chin, small wing and side scoops. And hopefully for '07 it will get a tasteful aftermarket hood of some kind.

2005 Mustang GT
One of our shop cars!