26 2005 GT Performance Update
2005 GT Performance Update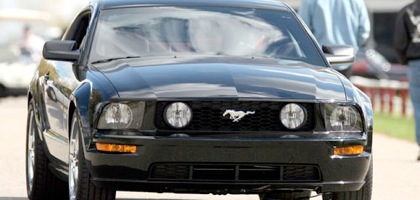 Alternative Auto has now taken our 2005 Mustang GT to what most would consider an obvious next move as far as mods or power adders would go coming from our shop. Our 05 GT is now equipped with an 8.5psi non-intercooled Vortech Supercharger.  We decided that without getting into some serious weight removal and potentially compromised drivability, as usual, supercharging the little 4.6L's is always the way to go for a great power improvement with perfect street-ability when tuned and installed correctly.
Our 05 GT weighs in at over 3750 with driver now that it has an even larger 315/35/20 rear tire on 20 X 10.5 widened Enkie rear rim. The goal is to ET as best as possible without any weight reduction and on the 20" rims and tires – keeping the car un-hacked and totally street-able, just like 99% of our customers. Most enthusiasts don't gut their cars and for the most part are content with low 12 to mid 11 second street cars on true street tires.
At this time our overall goal is to get into the high 11s in the 1/4 mile with no weight reduction, 20" rims and tires at all four corners, non-intercooled and on 93 octane. This will probably require about 425-450 HP at the flywheel which I think will start to push the new 5-speed 5R55S Automatic to its limit. We feel that high 11 second ETs out of a fully loaded, automatic trans, 05 Mustang will be quite respectable.
We've been a Vortech dealer since '91 and have continued to use their blower kits on Mustangs with great results including their latest offering for the new 2005 3-valve Mustang. We choose to go with non-intercooled kit because we've found that they 're overall less costly between initial cost and install labor, making the non-intercooled kit more popular.
As usual the Vortech kit for the 05 GT comes with all the required parts for the complete install and features OEM-like quality and appearance. Our kit is satin/non-polished because it blends better with the stock valve covers and surroundings.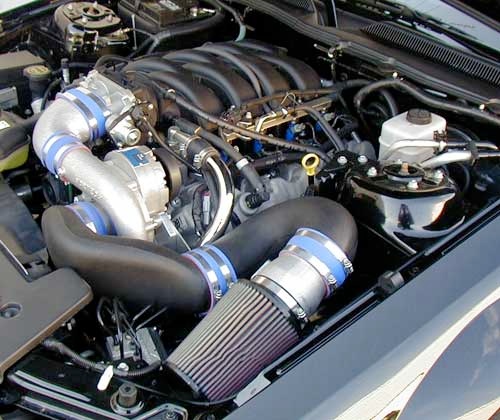 We are going to be installing and ordering these kits as what is known as "Tuner kits". What this means is that the kit comes very complete with the exception of the required custom tune. We will be developing our own tune using SCT software applying our own tuning beliefs and philosophies to better accommodate our local customers and regional differences in fuel quality. With today's cars, technology and computers it has become instrumental that a custom tune or some computer tuning is applied with even smaller performance installs and above all a blower add-on.
As I've preached for years now, with a proper tune, the 4.6L mod motors along with the new 3-valve 4.6Ls should have no problems with moderate boost levels. 8-11psi non- intercooled with pump 93 octane fuel will be completely reliable with the new 3-valve.
June 26, 2005
2005 GT Performance Update
The 05 GT has now seen some time on the dyno with the Vortech and some extensive tuning to get the "fly-by-wire" throttle and much more figured out with the 5-speed auto trans as well. In a nut shell with what we feel is a very proper tune on 93 octane, we got a best of 399.7 RWHP and 367ft lbs. of torque at the rear wheel by locking the converter and making all pulls in 4th gear with out letting it down shift out of 4th (1 to1 ratio).  We feel that these are very real world, safe and respectable numbers for a 3-valve 4.6L at an actual 10.5psi of boost! That's right 10.5psi of boost. Our DynoJet uses a very accurate boost logger and has found that even with the stock, large 3.8" blower pulley on the Vortech which is rated at about 8.5psi actually makes about 10.5psi at 6800rpms. And as the dyno graph shows, it pulls very well right to 6800rpms.
Our GT with the Vortech kit right out of the box, a slightly looser torque converter and Steeda "Charge motion" delete plates has now gone 12.04 @ 112.04 MPH with a 1.78 60ft.  This is now with a 3.73 gear in the axle and no other parts anywhere else with either the exhaust or the suspension at full weight (3750ish with the new 315 tires in the rear) with 20" wheels and tires. The rear tires are 28.7' diameter making the 3.73's not nearly as effective as with traditional mustang tire sizing that kept the diameters in the 25.5" to 26" tall with typical street tires and drag radials. Although the 5R55S 5-speed does have a pretty steep 3.21 1st  gear ratio, so we don't want to over do the rear gears and make the car feel like its nosing over or simply running out of its torque curve to quick wile in 1st gear.
At a glance this might not seem like enough of a gain since the car would go 13.0's with ease with just a few bolt-ons and a looser converter and ultimately a 12.92. But it must be mentioned that about 30 horse power worth of bolt-ons had to be removed before the Vortech could be fully installed. This means the C&L air box, under drive pulleys and electric water pump, all together adding up to about 25-30 RWHP all had to all come off first. This we estimate dropped the car back to probably about a 13.4 to 13.5 ET. So adding the Vortech only right out of the box at this point dropped what truly appears to be about a 1.3 second in ET at the 1/4 mile. For a full weight and then some, automatic 05 GT, we feel this is quite exceptional for a car that can just be left in drive and go!
Totally stock automatic '05s are supposedly running 13.8s to 14.2s. So in the big picture… very low 12's with this car, its simplicity, ease to drive and mostly stock other then blower, converter, gears and IRMC deleted – we feel is quite respectable especially on regular street tires.
In the near future the boost will be bumped to around 12-13psi, And MAC full length headers are on the way as well. After the headers will be a pair of high flow cats, resonators and then FlowMaster Delta 50 3-Chamber mufflers. Resonators are being used before the mufflers because on the new 05 GT's  with the mufflers being all the way in the back, not having any tail pipe to eat up some noise…. Resonators will help take some crackle and drone back out of the exhaust system.
So far the 5-speed auto trans feels very good and hit the gears firm and positively. There's no slipping or flaring with the new found power of the Vortech. So far we've been able to achieve what we want in terms of shift feel entirely through our tuning using SCT software and there Xcal flasher's. At this time we still don't know how much power the 5R55S will take but we've thrashed it already quite a bit with the Vortech on the street and the 1/4 mile. So far it's looking good. I think that with looser converter's to absorb some shock and bigger rear gears to alleviate the trans of some load and firm but not overly harsh shifts at WOT are going to make this trans hold up better then we all might have imagined.
August 24, 2005
2005 GT Performance Exhaust Update

We've now moved on to installing a set of MAC 1 3⁄4" mid length headers and a custom 2.5" H-pipe with Hi-Flo cats and resonators built into the H-pipe. We left the rest of the pipes leading from the H-pipe back to the mufflers alone being that they're 2.5" and stainless. At the very back of the car we went with Flo-Master Delta 50's, or what are also known as 3-chambers, and a very fitting, good looking, rolled stainless tip.
The reason we installed resonators in the exhaust is that I've decided that 05 Mustangs are going to be much louder than we've been accustomed to because of the mufflers being located all the way in the back of the car without any tail pipes to help reduce or cancel some noise.
We've already listened to several 05's that have other types of mufflers and exhaust systems and are starting to believe that a lot of these other set ups have for a lack of better words –  a disgusting, poppy, frappy sound that's just plain too loud for most people.
The system we've custom built for our 2005 GT has a very unique roar with no popping at any rpm or load, it is louder then stock, but wont get attention when you're 2 miles away. Personal preference is going to come into play here and were not saying that our way is the only way, but with the mufflers being all the way at the back of the car, we feel that lots of people are going to make the mistake of putting mufflers on that we've become accustomed to on previous model year Mustangs that had tail pipes.
On to the performance part of the exhaust changes we've made. It really didn't surprise us that the exhaust changes we made to the 05, even with the blower, added 10-15 RWHP. Yep, that's it. Only about 10-15 at the rear wheels after a pretty extensive change in the entire exhaust system. The reason that this comes as no surprise is that it has to be excepted that the stock system is pretty darn good now that it's a full 2.5", not 2 1⁄4" like previous model years. Even the exhaust manifolds have a header like shape cast into them unlike older 4.6L manifolds which were essentially a tube with 4 tubes leading into one log. The '05 manifolds basically have a 4 into 1 header design.
On the day we dyno'd the car with the new full exhaust it must be noted that it was 18-20 degrees hotter the last time it was tested without the new exhaust, this major change in weather will adversely impact our results. But the rest of the tune was watched, checked and even tweaked a little just to try and squeeze a little more. And in the end with the given boost and over all combo, we've deiced that it was worth a total of 15 RWHP only at the very peak RPM's. And subtle gains from 2500 rpm all the way up.
It must be noted though that the sound that this new and unique system produces is very different. It has a deep big block type sound at all rpms and loads.
The overall costs and gains of this complete system are something to be considered though.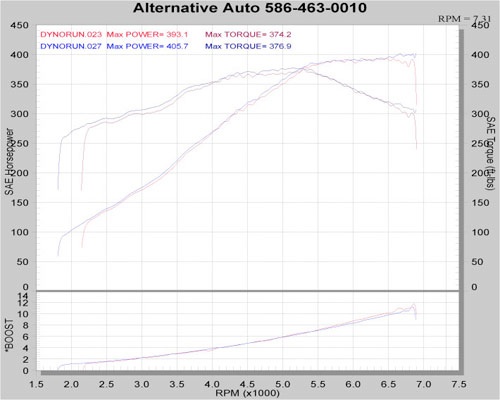 November 13, 2005
2005 GT Performance Update – Methanol Injection

This fall we decided to install a methanol injection kit on our project 2005 Vortech equipped Mustang GT to fully realize what this stuff can do.
Our 05 GT for the most part this past summer ran mostly 12.00's in hot weather on 20" wheels and non-drag radial tires. It also did run several 11.90's, but most where 12.00's. As we've stated in an earlier article on this web site, our methanol kits come from Alky Controls in FL. We used the stock wind shield washer receiver as the tank for the methanol. The 05 Mustangs benefits from having a healthy one gallon washer reservoir that is shaped rather nicely so that as the tank empties, it will still get good liquid flow out to the pump and not slosh to far from the drain.
Methanol pump mounted in 05 GT left front fender.
Windshield solvent tank converted to handle Methanol in 05 GT right front fender.
When the Meth kit went onto our 05 GT, we removed the 3.6" pulley from the Vortech and replaced it with a 3.48" which bumped the boost up to almost 14 psi. The Vortech's stock pulley is a 3.8" for the 05's when the non-intercooled kit is installed which our was not intercooled.
Our 05 GT was the first new body style Mustangs to get a kit from Alky controls, so they worked with us for a few days till we nailed down some hose lengths and fit and finish for the other components like the pump and controllers etc.
When the kit was fully installed our 05 GT it went from an average of about 410 RWHP when it had about 12.5 psi of boost and 93 octane with no Methanol.
And now with the boost bumped up to 13.5 and the Methanol flowing, the RWHP number jumped up to an average of 475 RWHP!! Not bad, and with no signs of detonation in sight.
Methanol nozzle mounted in Vortech discharge tube.
Another shot of the Methanol nozzle mounted in Vortech discharge tube.
With this new found power, on October 15th 2005 we headed out to a local 1/4 mile track. And proceeded to run several 11.30's at over 122mph!!! With a very best of 11.23 at just a tad under 124 MPH!! This was on the 315 non drag radial street tires on 20" rims. The sixty foots were in the 1.75 range and could have been much better had we not walked the car out of the hole.
I believe with a drag radial, this car would have already gone a 11.00 ET.
It has to be repeated that our 05 GT does not have any traction devices at all or any suspension pieces replaced other than all four chassis springs have been replaced with a Steeda lowering spring kit.
So far the 5-speed automatic in the 05 GT is holding up very well. We pounded our 05 GT for over 8000 miles this past summer. The Vortech has been on for well over half of that. I'd have to say that in the short term the 5R55S automatic has more then exceeded the life expectancy I predicted it would have behind what's appearing to be about 525+ HP at the flywheel.
I have to believe this is one of the fastest 1/4 mile cars on true street tires and on 20" rims on top of it all.
For right now we have no intensions of stepping the cars performance up any more. The little 5-speed automatic has lived longer then predicted at this power level already. So for now we simply look forward to having some fun and consistency with it in 2006.
This fall we decided to install a methanol injection kin on our project 2005 Vortech equipped Mustang GT to fully realize what this stuff can do.