26 Our Engine Building Capabilities!
Our Engine Building Capabilities!
Monday, December 26, 2011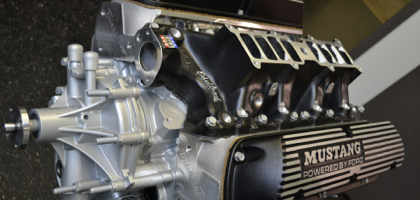 Alternative auto has been doing complete engine rebuilds really since the shop was started back in 1990. Ranging from 302 to 418 Windsor's and today's 4.6L's Modular's.
Alternative Auto does not have a in-house machine shop or cylinder head shop. But we are affiliated with very competent and experienced local shops that provide us with exceptional block work and prep.
And our local high performance cylinder head shop provides us with excellent cylinder head services of all kinds starting with simple bowl porting and valve jobs, to cutting edge and modern full CNC port jobs on a variety of Ford cylinder heads. Including late model 2-valve, 3-valve and 4-valve Modular cylinder heads.
All the final assembly on our build-ups are handled in house with careful and experienced personal that have become very knowledgeable, especially with the late model 4.6L engines and all of their over head cam and valve train assemblies & techniques.
Bearing clearances and all piston-ring fitment is handled in house, then leading to full long block assembly. The overhead cam "modulars" have become 2nd nature to us. On average we build–up about 5 to 6 full long blocks a month.
All of our engine rebuilds are based around stronger Forged pistons typically provided by Diamond racing. And stronger connecting rods which are usually Eagle brand. All the engine photos shown are 4.6L's, because now days 95% of the engines we build-up are 4.6L's ranging from 2-valve up to 4-valve cammer motors.
Also for us "Stroking" the 4.6L's has become increasingly popular the last few of years starting in 2004. Against what some are saying Alternative auto has had excellent results so far with stroking the 4.6L's, bringing them up to 300 cubic inch (stock is 281cu in). Our diamond pistons which use offset pins, along with other block and boring techniques have allowed us to establish very noise free pistons during cold operation, and excellent running stroker 4.6L's ranging from 2Vs to 4Vs in both N/A, and blower applications.
Alternative Auto also offer "Big-Bore" aluminum 4.6L block service as well which makes a stock 4.6L also go from 281 to 305 cubes. Big-Boring though is much more costly then the option of stroking, and big-boring is not an option for the "iron" 4.6L blocks common in most 2V applications.
Also on Aluminum blocks. Stroking and Big-Boring can be combined to get up to 325 cubes from a 4.6L. These can get pricey but offer some serious power and midrange N/A or with either a centrifugal or twin-screw type blowers.
For the LS based small blocks, we offer affordable forged short blocks or more elaborate larger displacement stroker forged short blocks ranging from 383 to 450 cubic inch.
A common but some what unknown service that Alternative Auto has available is… we also offer complete engine rebuilds and installs on Mustangs, Fords, and LS based GMs.