28 2005 Mustang GT Vortech And Alcohol Performance Kit
2005 Mustang GT Vortech and Alcohol Performance Kit
Wednesday, December 28, 2005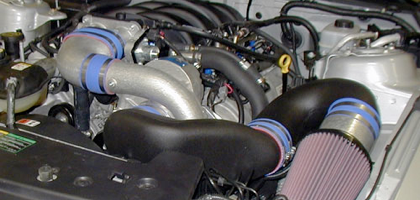 Since mid 2005, Alternative Auto has installed and tuned over twenty-five Alcohol injection kits on supercharged Mustangs with exceptional results. You might say we're becoming "Alky-haulics".  I've become quite hooked on the stuff, especially on my shop's own '05 Mustang project car which has made substantial gains with the addition of an Alcohol kit and 93 octane in the tank.
We've assembled a package for the 2005 Mustang GT, which is the focus of this article on Alcohol.
When supercharging the '05 and newer Mustang 3-valve engines, Alternative Auto will, and has already installed many types of blowers other than the trustworthy Vortech – our mainstay the last 15 years.  The reason Vortech seems to always be the most popular of all the bolt-on blowers is quite simply the lower overall cost and the simplicity of the finished install, plus a very OEM fit and finish. This article is about a package and pattern we've now developed and want to offer the 2005 Mustang enthusiast that might choose to go the Vortech route on their 2005 and up Mustang 3-Valve.
We've decided to stay away from the Vortech water-to-air intercooler upgrade and other air-to-air intercoolers as well, and go with a pulley change that ups the boost to about 12.5 psi and use a Alcohol kit instead of an intercooler hardware upgrade. We've now proven and established that a Alcohol upgrade is a viable option for non-intercooled centrifugal blower applications.
At Alternative Auto, we've always tried to push our more aggressive customers into switching to race fuel when they start to get "out of hand" with higher levels of boost, especially when mixed with the higher compression of today's 4-valve and 3-valve 4.6L's ( 9.8 to 10.1:1 ). Convincing people to run pure race fuel has always been an uphill battle for me, because race fuel is two to three times more costly then regular pump gas, and its very inconvenient for some people to find locally. It's important to understand that when trying to make big power "SAFELY" out of only 281 cubes on the street and the track, in heavy cars – you have no choice but to sneak up on more boost – boost levels that are often not safe with just 93 octane. This leads to the requirement of more octane no matter how you look at it, even if they're intercooled with big boost. And we've already established that reducing the compression on street 4.6L's is a very bad move overall, plus this leads to expensive and unnecessary engine rebuilds if the stock engine is in good shape and ultimately tuned correctly with boost.
We are clearly seeing that Alcohol injection on a Vortech equipped Mustang is not only safer then true hardware intercooling, but has the potential to make even more power overall than an intercooler upgrade on the centrifugals. We can't stress enough that with a Alcohol kit you basically get 2 big upgrades out of the deal. First a big drop in inlet temp that's not affected by intercooler hardware heat saturation, and second a big jump in octane.  A third advantage comes from Alcohol kits: it can take over where your old fuel system falls off and allow more boost and RWHP without having to go to bigger fuel injectors or other fuel system upgrades in many cases.
Now for the specifics. Alternative Auto has established a 12.5 psi Vortech package for the '05 and up Mustangs that will net 470+ RWHP with absolutely nothing else done to the car. This package is simple, clean and works! Its all happening with the stock fuel pump in the tank and no Boost-A-Pump either, only 39lbs injectors which come in the Vortech kit. The package consists of a 12.5 psi Vortech S-trim and an Alcohol kit as well. This is all happening with 91-93 Octane in the tank. And realistically could probably be done with 87 octane if we tried. This is all done with an Alternative Auto custom tune using SCT software to take full advantage of the use of Alcohol.
From everything we can tell, this tune and this level of power at the rear wheels should be very safe for the stock short block. We feel that the engine is very far from detonating because of the inlet temps staying under 130 degrees with the Alcohol, and the octane being raised substantially because of the Alcohol. There are many tuners and disbelievers that this level of power isn't safe for these engines. Of course we don't promise either that this will last for ever, but from our experience in other applications with 4.6L's running race fuel, we've proven that a stock 4.6L non-forged short block can handle over 550 RWHP with 16-18 psi of boost pretty darn good if you never spark knock it which is what really leads to piston failure, not the power.
We have a saying at our shop "Boost doesn't break stock mustang pistons, poor tuning and a lack of octane does!"
We've watched and listened to a lot of things on these cars and I feel this is safe, and can go for a long time, providing nothing goes wrong with the stock fuel system or the Alcohol kit under W.O.T. conditions.
On most of our Alky installs including the '05 and up Mustangs we do build in some safety in the event of an Alcohol injection failure. We are taking the ACT sensor (Air Charge Temp) and relocating it up-stream from the blower in the inlet track (its normally intergraded into the stock Mass-Air meter and would only measure non-heated, before blower air temps). By relocating the ACT sensor after the blower in the intake track, it allows us to tune so that if the inlet temps skyrocket due to an Alky failure, we can tune the ECU to significantly reduce ignition timing to save the motor as the inlet temps would normally climb up if there where no Alcohol. Just to give an idea of how much the inlet temps are reduced with a Alcohol kit – on a typical, non-intercooled Vortech set up with 10 psi of boost, inlets can get as high as 225-250 degrees at the end of a full 1/4 mile pass on a warm day. With Alcohol injection on the same set up but with 12 psi of boost, the inlets never get over 135 degrees by the end of the 1/4 mile!
We are very excited about Alcohol and intend to get a lot of people into it over the next few years. At this time it is truly like having your cake and eating it too.
And this is only the beginning, there is still room for a bigger rear gear, exhaust work and even more boost. We figure with a few tweaks and exhaust work we will soon be able to offer this as a 500 RWHP package with complete reliability.
We will be dong this entire Vortech package with the Alcohol kit on 2005 and up 4.6L 3-Valve Mustang for $5695.00 installed, dyno'd and tuned!
Delivers a proven 470 RWHP with complete reliability for the 2005 and newer Mustang GTs.