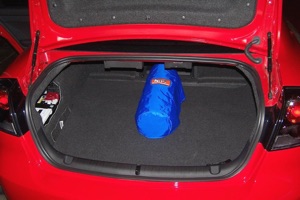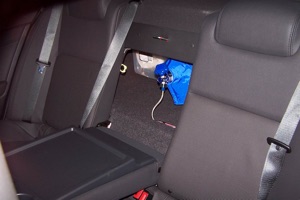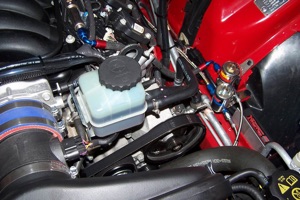 For the Pontiac G8's we are now offering an affordable NOS system that is a great way to safely add 125+ hp on 93 octane.
We start out by using the Nitrous Oxide Systems™ universal EFi "Wet" kit capable of 150+ hit. For most of our NOS installs we recommend the available 15lbs bottle, rather than the default 10lbs bottle that is very traditional in most NOS installs. We've found that the 15lbs bottles will fit nearly every application out there. Our install very neatly places the bottle in the trunk off to the center near the front of the trunk area. The bottle can be accessed and removed very comfortably by folding down the center seat back panel and dealing with it from within the back seat area of the car.
One of the key additional products we use and recommend with our G8 NOS installs — is a well designed and clever product from a company called "Dyno Tune™" products.
http://www.dynotunenitrous.com/store/scripts/prodView.asp?idproduct=216

They offer a multi function Nitrous progressive controller that ties into the stock electronics, and is used to progressively control NOS flow, and at what RPM it starts to flow, and also at what RPM it is turned off just before the REV limiters or shift points for an example. This device makes life a lot easier when trying to spray a manual trans car from a dead dig, and for the first 50+ feet depending on available traction which is key!
We also do something unique to pull the appropriate amount of ignition timing only when the NOS is flowing. What we do with the late model  LS applications is electronically tie into the "IAT" sensor  that monitors the inlet temperature and trick that sensor into telling the ECU that the inlet temperate has gone very high only when the NOS is applied. This of course requires more elaborate custom tuning. Ultimately what this does is allows us to continue to run on a more aggressive spark curve for every day stuff, and instantly switch to what we want for ignition timing only when the NOS is active, giving us the best of both worlds.
Like all of our other installations, the G8 NOS is neatly installed and tucked away as best as we can. All of our wiring is either hiding or integrated near or into factory looms.
Call for pricing.