We've been installing and tuning Vortech Superchargers exclusively for over 11 years and the new Mach-1 kit meets all the quality and fit-and-finish we've come to expect from Vortech.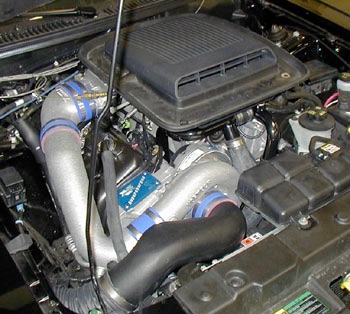 Vortech has done a superb job of making the Mach-1 scoop fit nicely around their supercharger package. One new and very noticeable feature with the Mach-1 Vortech blower is that they've gone back to the "SC"-Trim for this blower kit, not the "E"-trim that was used on the '99 and '01 Cobra's. The SC-trim was first used exclusively on the '96 thru '98 cobras and is nothing more the tried and true "S"-trim with a slightly reduced impeller outer diameter that kept the blower from over boosting on the 7000+ rpm capable 4-valve engines. The E-trim was a good unit but only made about 7 psi of boost with stock pulleys and was limited to about 10 when over spun as far as you could go with the typical 6-rib Cobra pulley combination. When over-spun, the SC-trim can produce as much as 12-14psi on a typical 32 valve that sees 7000+ rpm's.
Now back to the Mach-1 kit
We order and install all Vortech kits these day (including the new Mach-1 kits) as what is known as a "TUNER" kit. These tuner kits come to our door without three components that Vortech would normally supply. To complete the kit we add our own in tank fuel pump, 42lb injectors, and the most important – a custom tuned chip. This "tuner" option also applies on other Vortech kits we install and is not limited to just the Mach-1.
We use our own fuel pump because it is capable of supporting about 15-20% more HP than the Vortech-supplied unit. Without the proper experience our unit can be difficult to tune with the return-less fuel system which is why it is not included in the standard kit in the first place.
We use our own Ford/Bosch style 42lbs injectors because early Vortech kits that supplied injectors came with only 30lbs or 38lbs injectors. Once again our injectors can support more HP and have more room to grow. With our tuning expertise the 42's are quite tame for all around driving.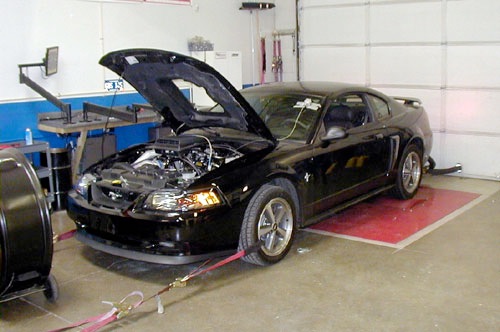 Above all, we provide our own custom tune on the Mach-1 (and others as well) in place of the Vortech-supplied chip because in today's high horsepower after market industry, one tune does not fit all. We prefer to provide and verify Air/Fuel ratios and set proper and conservative spark curves for our regional differences in air and fuel quality. Our chip/tuning can also accommodate for different rear gears and many other modifications that have been made to the vehicle. We also turn the Cooling fan on earlier and can correct aftermarket exhaust that causes "Check Engine" light issues.
The Mach-1 used for our install was completed in early January 2004. The dyno number at the rear wheels was very impressive to say the least. The car that was used had a 4.10 gear. We want to remind readers that steeper rear gears cause RWHP numbers to be lower by about 2-4% when going from (as an example) a 3.55 all the way to 4.10's. The car also had BBK long tube headers and two HI-Flow catalytic converters used with two FlowMaster 50 Delta mufflers (also known as 3-chambers).
At the rear wheels with an overly conservative tune due to Michigan winter blend fuels which are quite poor, we achieved 444 RWHP and 400 ft lbs of torque. This is an increase of over 170 HP at the rear wheels and 100% safe!
These are great numbers at the rear wheels considering the timing is as much as 2-4 degree less than typical because of our concern for the poorer winter blend fuels we're currently dealing with in this region. The peak boost on the Mach-1 with stock pulleys was right around 10 psi. Our Air/Fuel ratio once the boost started to really come on is in the mid to low 11:1 area.
Because the Mach-1 engine produces more mid and low end torque than earlier Cobras equipped with the 32 valve 4.6 this type of power added to the Mach-1 really makes for a strong all around pull, and really comes on above 3000 rpm's. A 4.10 gear in the axle greatly compliments this package and feels very, very good on the street.
The Mach-1 with this type of power and straight axle should prove to be a lot of fun and extremely reliable.
Please call for pricing and more details.
VORTECH SUPERcharger kit for the mach-1 mustang