17 Alternative Auto Co Develops Eaton Supercharger Intercooler Kit For Mercury Marauder
Alternative Auto co-develops Eaton Supercharger/Intercooler kit for Mercury Marauder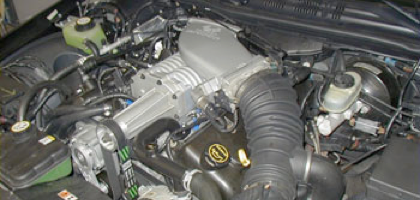 The Marauder has exited me and brought back feelings that I haven't felt since I first started paying attention to cars when I was about 13 years old. Don't get me wrong, I still love Mustangs and always will. But being in my mid-thirties has definitely changed the way I look at what I want to drive every day and what I want to play with. For me, the Marauder fits in where Mustangs leave off. It has room for the whole family and still looks tough. Plus I love driving big vehicles. I've owned and driven a '99 Superduty Crew-Cab, Diesel, dually for over 5 years now, so to me the Marauder is much smaller than what I've become accustomed to for every day. And now the Marauder comes with a foundation that gives room to grow and perform.
We're especially exited about the marauder for one reason. We've co-developed an Eaton, supercharger / intercooler kit for the car that adds over 110 horsepower at the flywheel. Trilogy Motorsports in Dearborn Michigan has engineered the blower package and has put together a top-notch package. We've performed all of the tuning and calibration work for the computer. Working with Trilogy Motorsports, we've given the marauder what many wish and believe should have come from the factory. A neatly packaged 8psi Eaton with a water to air intercooler. Some of the kit uses actual Ford components and the rest it is of course unique for this application. The Eaton is the M-112, which is the same unit used on the Lightning and the '03 Cobra. It all fits nicely under the hood and looks as clean as an OEM option. All emissions components stay in tact and fully functional. Those who have had an opportunity to drive the '99 and newer Lightnings and Cobras can appreciate the type of low end grunt and torque this package will add to the Marauder. For the most part the car needs very few to no other modifications to turn it into a low 13, high 12 second car.
To date with what we feel is conservative tuning using 92 octane gas, the car has run a 12.95 @ 105mph in the quarter mile! Not bad for a car that weighs in at 4500 lb. with a driver. The Marauder runs mid to high 15's when completely stock. This performance gain is with only the supercharger kit – No other modifications anywhere else! It uses the stock 3.55 gears and zero modifications to the exhaust – which by the way is almost entirely 2″ except for a couple of spots where it necks down slightly.
We feel that the 4R70W trans will hold up just fine at 8 psi of boost because we do calibrate it to shift much firmer at WOT. But some cars may require a shift kit due to different manufacturing tolerances and the age of the transmission when the supercharger kit is installed. We are very proud to have been chosen to perform the calibration work on this project and are looking forward to many more installations in the future.
Working with Trilogy Motorsports, Alternative Auto has helped develop a supercharged/intercooled kit for the Marauder what many wish and believe should have come from the factory. A neatly packaged 8psi Eaton with a water to air intercooler adds about 110 horsepower at the flywheel.