19 99 04 Mustang GT Kenne Bell Supercharger
99 – 04 Mustang GT Kenne Bell Supercharger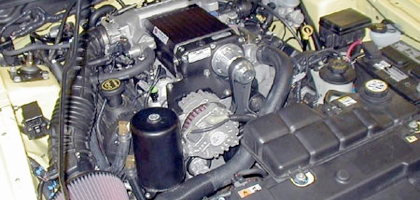 Alternative Auto has just finished installing and tuning our first Kenny Bell intercooled blower package for the '99 and up 4.6L Mustang GT's. We're quite pleased with the performance of this package and thought we'd share the details.
Our test and installation car belongs to a long time friend of Lidio's. The car is a 2002 Mustang Saleen that from the factory had the Saleen 3.55 gears and Cat-Back 2.5" Borla type exhaust. The mufflers have been changed to Flow Masters by the owner. The 4.6L engine is basically a stock 260hp Mustang GT.
At the heart of the Kenne Bell supercharger kit is the Billet Twin Screw 1700 Blower. The kit uses a unique lower manifold assembly cast exclusively for the Kenne's twin screw blower and accompanying intercooler core. The rest of the kit consists of a stock throttle body rear blower adapter and all the related intercooler plumbing, heat exchanger and pump. The kit also includes a Boost-a-pump, which raises the fuel pump's voltage when 4psi of boost has been reached.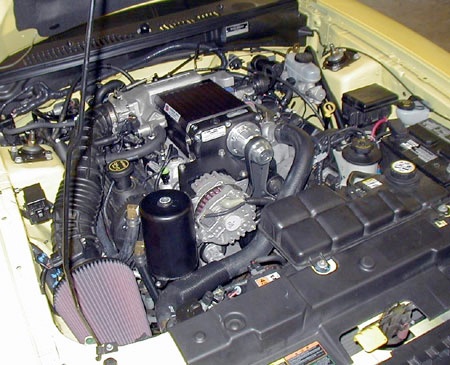 We ordered the kit as what we call a "tuner kit". This means it does not include injectors or a chip. We prefer to custom tune all of our own installs to better accommodate our regional differences in fuel and air quality. And we like to use Bosch 42lbs injectors on all of our '99 and up returnless fuel system Mustangs. Kenne Bell normally includes 36lbs injectors.
Our kit was also ordered as the 14psi configuration. We were confident that with 93 or Michigan's 94 octane fuels, the proper intercooling the kit provides and above all a proper tune, that it would make a reliable & potential 400+RWHP without detonation.
The kit took us a total of 16 hours for the full install. This also included replacing all 8 spark plugs and a pillar mount boost gauge.
When the install was complete and all cooling fluids topped off, we immediately set it up on our DynoJet. It took some time to get the spark curve right for the amount of boost this thing makes right off idle when lugging in higher gears like 3rd, 4th and 5th. Just like the factory does, we tune so that the engine can be lugged down and bogged in the wrong gear at very low rpms and still not hear a hint of spark knock.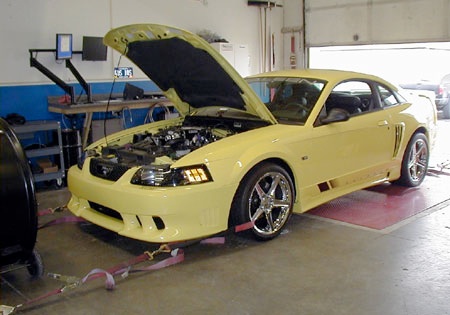 Right from a rolling punch in 4th gear at about 1500 rpm this combo makes about 8psi of boost. By the time it gets to 2500rpm it's already making 11psi and over 400ft lbs of torque!! It carries this amount of torque and then some from 2500 to 4500 with a peak Rear Wheel torque of 430 ft lbs. The horsepower peaks at about 5500 rpm and ends up at 385RWHP. The only real disappointment is that we expected it to make 14psi and we were hoping that it would make no less then 400 RWHP. But the peak boost on this particular car and bower was no more then 12.5psi.
With all things considered this amount or RWHP and Torque are quite respectable when considering everything is stock on this car with the exception of a cat-back exhaust system. We pushed the timing as far as we thought we could go on 93 octane. We were confident that with a larger higher flowing Mass-Air meter and possibly a throttle body change that it would pick up 1-3psi of boost and an additional 25-40RWHP. We found some of this to be true. Before we took it off the dyno we replaced the stock 80mm MAF with a 90mm Cobra/Lightning MAF and a matching K&N Filter Charger kit designed for the '03-'04 Supercharged Cobra's. These two components were worth 20RWHP, 15 ft lbs of torque and about 1.5psi of boost netting us a total of 396 RWHP and 445ft lbs of RWTQ! Not completely satisfied with just under 400RWHP the owner of the car opted for a replacement X-Pipe with two high-flow catalytic converters that's 2.5 " all the way through and loose the stock H-pipe with four cats. We've seen these types of H-pipes and X-pipes unbelievably only gain as little as 8-12 RWHP on Roots blower equipped cars for some reason, not 20-25RWHP as others will usually claim. But to our surprise, in this installation it was worth about 16RWHP and another 10ft lbs of torque! This brought the total RWHP to 412 and the total torque to 455.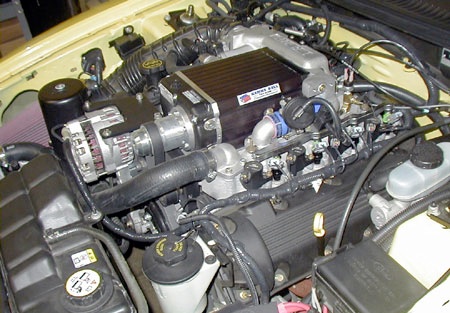 Most of this awesome torque is in by 2500rpms! Not bad for just a blower kit, MAF, X-pipe with cats, and a cat-back exhaust system. This combo is extremely fun to drive and has a very useable torque band at low and midrange areas, plus some nice pulling horse power to carry it just past 5600rpms. The dyno graphs shown are the best with the larger MAF and K&N filter charger kit, and then with the addition of the X-Pipe with two cats.
Please call for pricing and more details.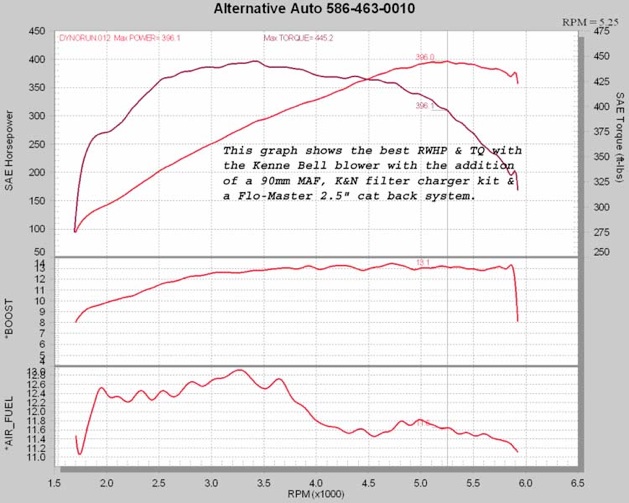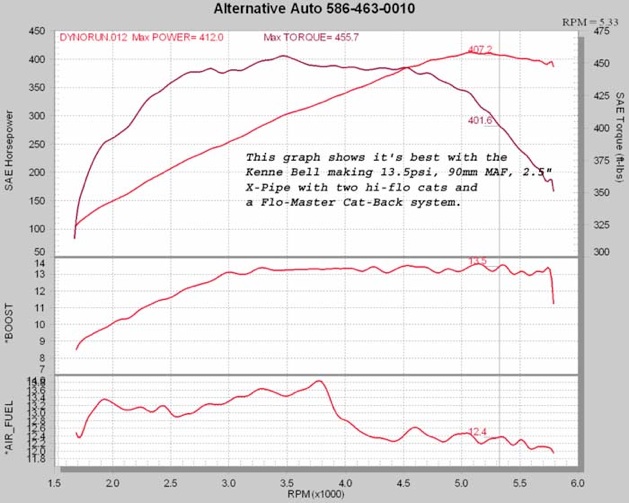 Kenne Bell Supercharging the 99 – 04 Mustang GT's!