27 The Return Of The Little Green Coupe
The Return of the Little Green Coupe
Wednesday, November 27, 2002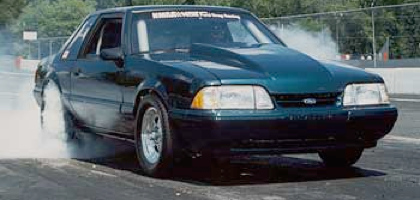 With Winter starting to take over here in the mid-west we finally have a chance to catch our breath and update (we know, long over-due) The Water Box.
We're pretty excited about this project and wanted to share the results. You may recognize the little green coupe in these photos, it's the same car that made history in 2000 running a best 9.63 @ 141 mph with a Vorteched, stock long block 4.6 Cobra engine.
Well, it's back and this time with an even more unique 4.6L conversion. The coupe now sports a complete 2003 Cobra engine complete with the factory Eaton supercharger. The engine was acquired through a warranty deal when an "over-the-counter" 2001 Cobra crate engine encountered a bearing failure. The dealer was unable to get an '01 engine as a replacement but to our surprise a complete '03 Cobra engine did show up.
Our initial plan was to take the warranty replacement engine and drop it back in the way it was, Vortech and all. But after much deliberation, we decided that the "cool" factor would be the highest if we used the '03 Cobra engine pretty much the way it came from the factory. This would also serve as an excellent test bed to see what the '03 Cobra engine is capable of in an unrestricted environment. An "unrestricted environment" means not having to rely on stock electronics or MAF and run big free-flowing exhaust.
The original 4.6L combination in this coupe proved beyond a doubt that the stock pistons could reliably handle big boost (20-25 psi) as long as race fuel was used and absolutely NO detonation occurred. Running conservative timing and plenty of fuel with the original combination proved to be very reliable and make tons of power. As a remnant of that development, the fuel system on this car consists of 83lbs injectors, CPR fuel rails and a Weldon fuel pump. The engine management remains a stand-alone system from FAST which is "Speed density". This is why there is nothing in front of the throttle body on this '03 Cobra motor. We are still using the 1 7/8" headers and a 3" X-pipe with 3-chamber Flo-master mufflers.
With the new combination and heavier engine the car weighed in at just under 3200 lbs. Our first outing with the new combination netted consistent ET's of 11.00 @ 124 mph. These times were with the '03 Cobra engine's long block, heads and cams completely stock and even the factory pulleys intact. In this trim the blower made only 6.5 psi of boost. Most other stock '03 Cobras usually see between 7-8.5 psi. We attribute our boost losses to the big headers and X-pipe.
The engine is bolted to a 4R70W which has always been shifted by a Baumannator TCS control box. The torque converter is a Stallion that stalls to about 2900 rpm. The rear gears are 4.10's. For the factory intercooler we run a ten gallon cell in the trunk that circulates ice water at all times when at the drag strip. This keeps the inlet air temps at about 88-99 degrees at WOT.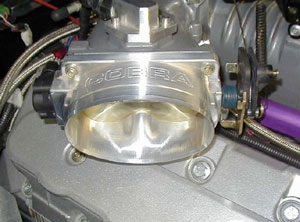 Since running the 11.00's in basically stock form early in the Summer we decided to get to work. This Fall we had a custom throttle body and smaller 2.8" pulley (factory is 3.6") built. These two changes showed a solid 39 hp gain at the rear wheels and a whopping 1/2 second at the drag strip. The combination produces 440 hp at the rear wheels on a Dynojet. While that may not sound like an impressive number it's important to remember that this is with an automatic transmission and a non-locking converter, a manual transmission will show approximately 15-20% higher numbers.
With the aforementioned changes the best ET to date is a 10.52's at 128 mph. And the car still weighs just under 3200lbs. The pulley and throttle body added 5 psi of boost, the engine now sees a total of 11.5 psi. We've tried a few other tweaks but have seen very little gains from our initial set up and ideas. We even tried bigger rear gears and this netted no improvement. As with any positive displacement supercharger there is a limit to the volume of air that it can move and we appear to have reached it. We plan to leave the combination alone until Kenne Belle releases their highly anticipated Auto-Rotor which is rumored to make every bit of 18+ psi on this engine. This alone should easily put the coupe solidly back into the 9's.
The engine has survived more than 100 full-throttle passes down the drag strip and nearly as many chassis dyno runs this past summer. This reliability is achieved with a very conservative tune. We are running a very safe 11:1 air/fuel ratio and are only adding 3 degrees more timing than the factory curve at WOT. Even with this non-aggressive tuning profile and the relatively low 8.5:1 compression ratio and factory intercooling we are using Turbo Blue 110 octane race fuel for the utmost in safety until we are done experimenting.